---
Bike Full Detailing
As a bike enthusiast, you understand the importance of keeping your bike in tip-top shape. Regular maintenance, cleaning, and polishing can help prolong the life of your bike, and make it look and perform like new. When it comes to bike detailing and coating, TAS Detailing studio, pioneer in bike detailing can provide the best detailing options to choose from, here are the details. We do detailing for all bikes, including the top imported bike brands.
Call us to discuss more.
Full detailing includes
🔸 Detailed cleaning / Degreasing
🔸 Snow foam wash
🔸 Metal parts restoration
🔸 Painted parts restoration
🔸 Protection with Paint and metal wax
🔸 Platic and rubber parts protection dressing
🔸 Chain cleaning and Chain lube (optional/paid extra)
🔸 Protection with Ceramic coating (optional/paid extra)
Detailed Restoration of
Painted parts like tank, covers etc
Metal parts
Note: No polishing will be done on matte finish parts. Polishing is only done on glossy painted parts and non painted metal parts
Bike Coating
Ceramic and Graphene coating is also available for Bikes. Full body ceramic coating of all parts, including metal parts like rim, clutch covers, silencers etc. and all painted parts.
Coating can be done on Glossy or matte finish.
Below is the Matte paint finish 50-50 coating difference. Ceramic coating on matte finish provides a better color depth and restore faded matte paint. Matte paint cannot be polished (matte paint will turn to glossy finish if polished) , hence its adviced to protect the matte finish paint with ceramic coating.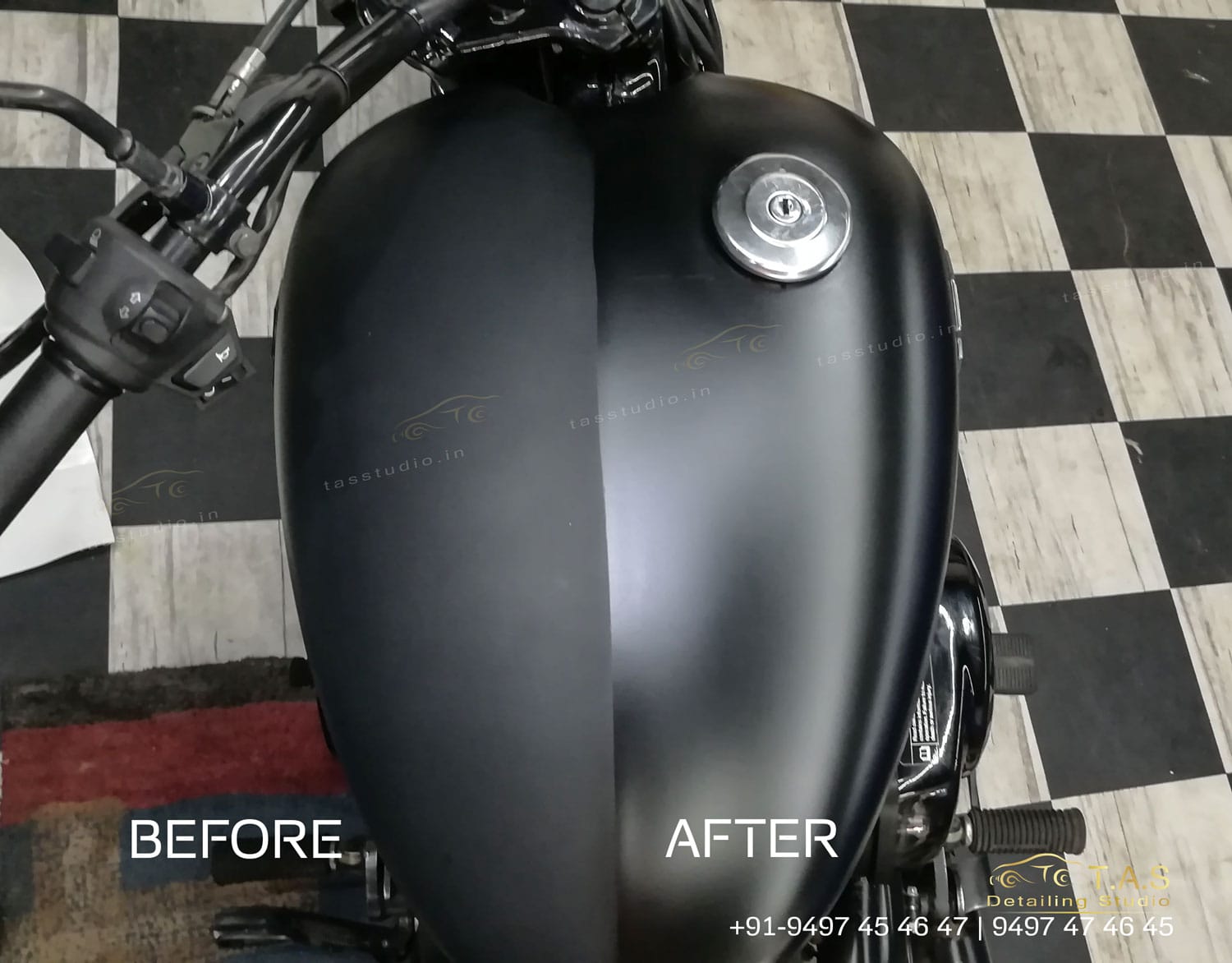 Duration : Can take 2 to 4 days, depends on vehicle condition. Bullet polishing is a time consuming activity, because it involves small body parts.
Cost : Cost depends on the work involved. Range around 1500-3500
Metal polish - BEFORE - AFTER
Below images show the difference on metal and paint polish on fadded surfaces, its must for old bikes before doing any protective coating. Continue with regular waxing or coating to protect the restored paint shine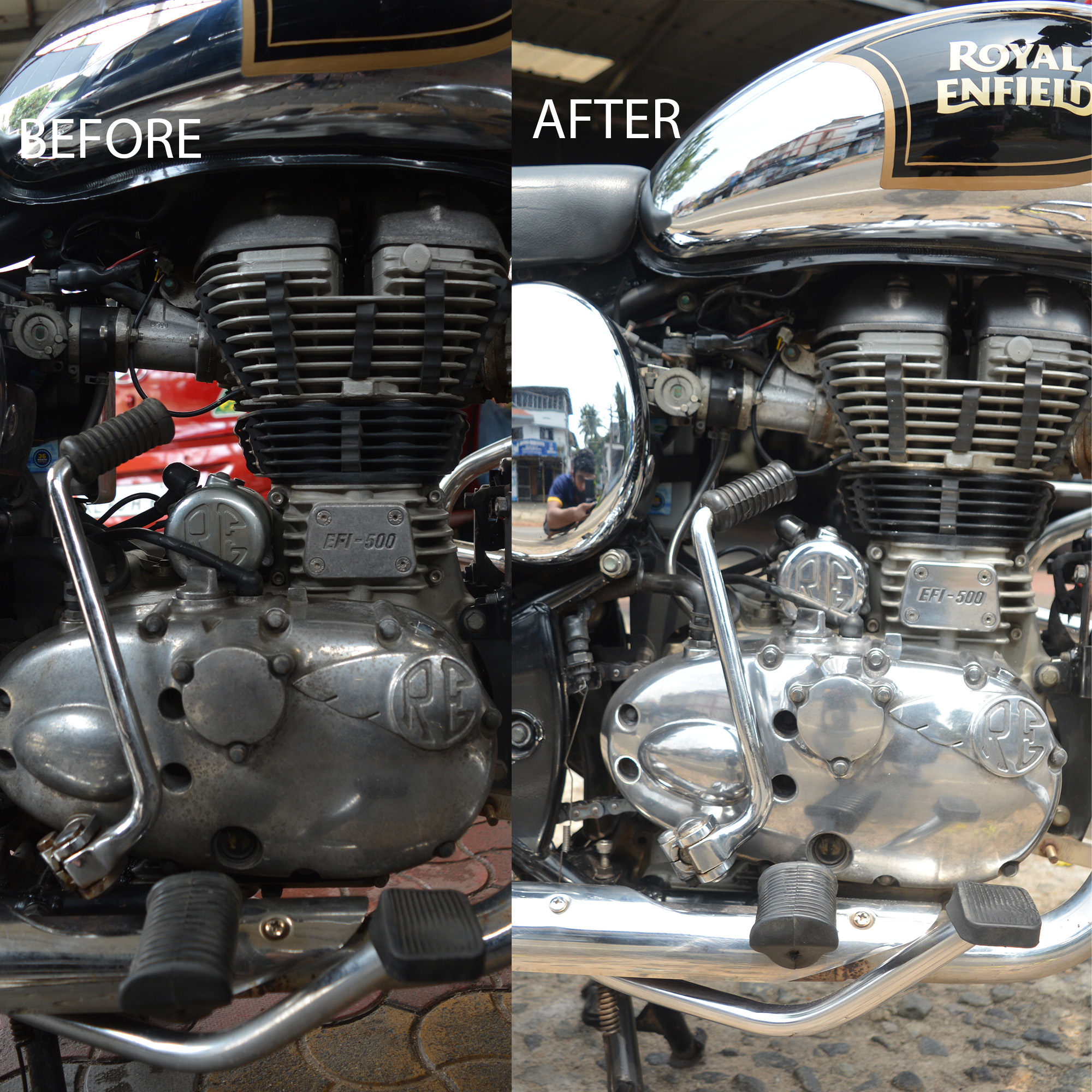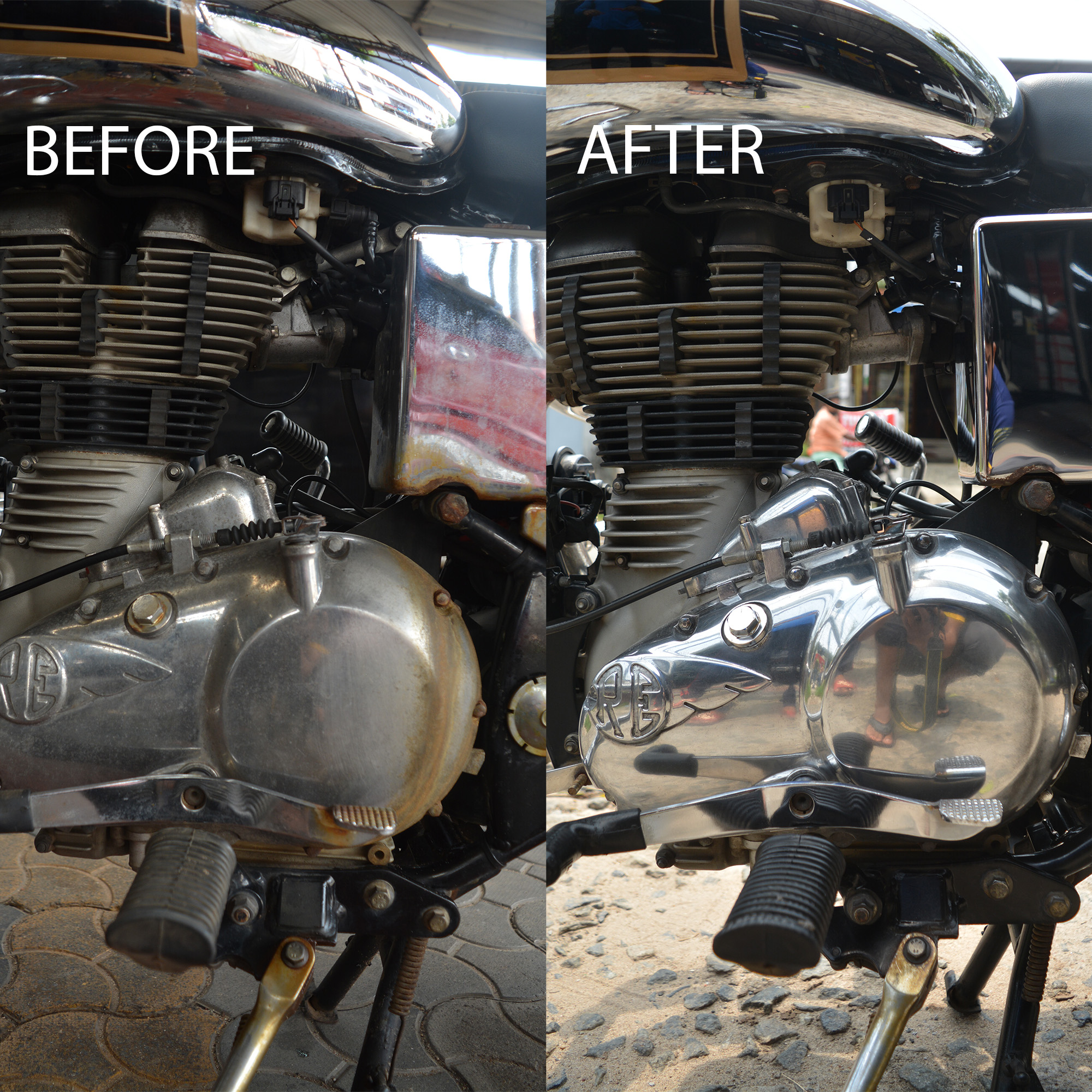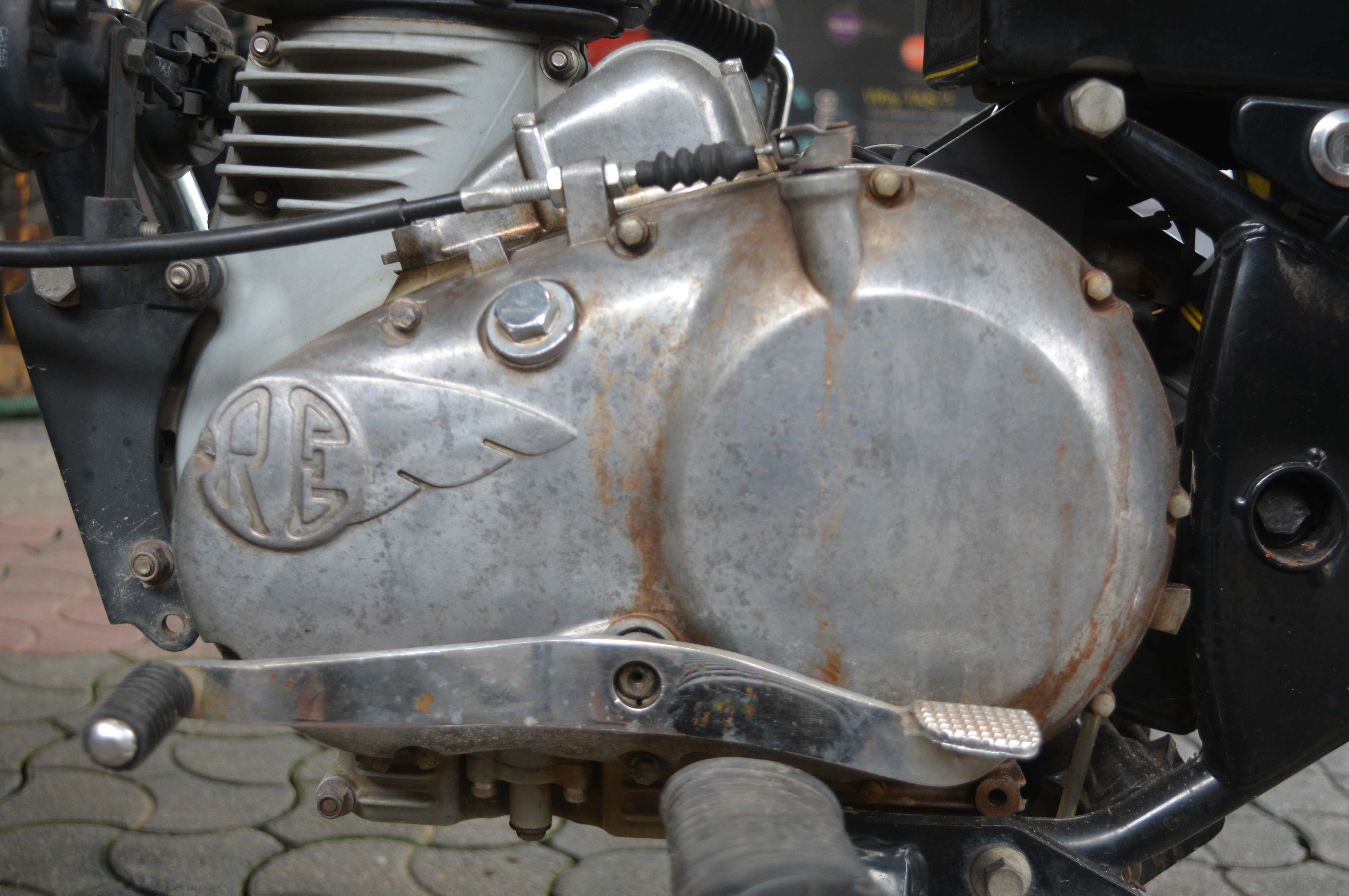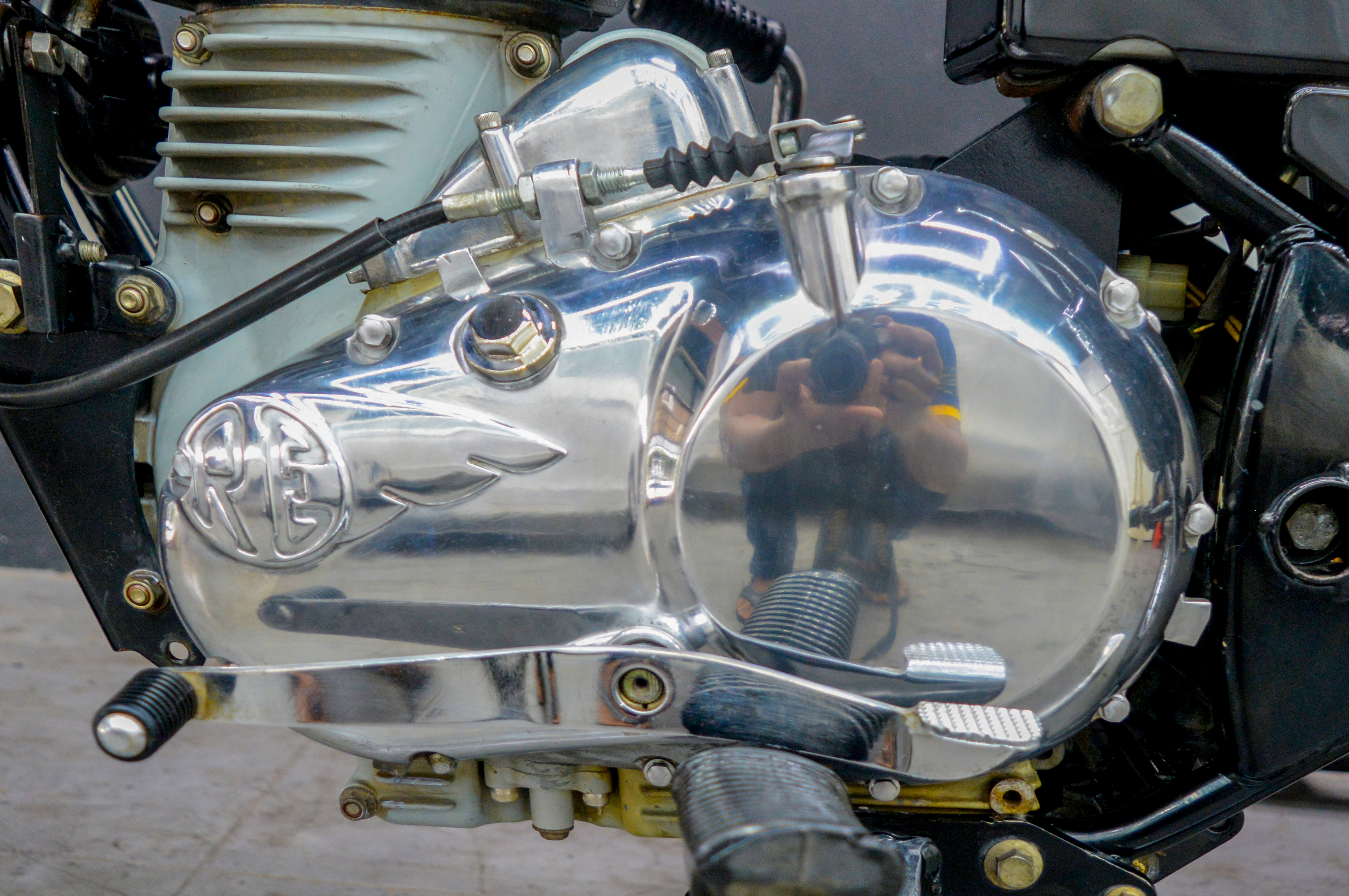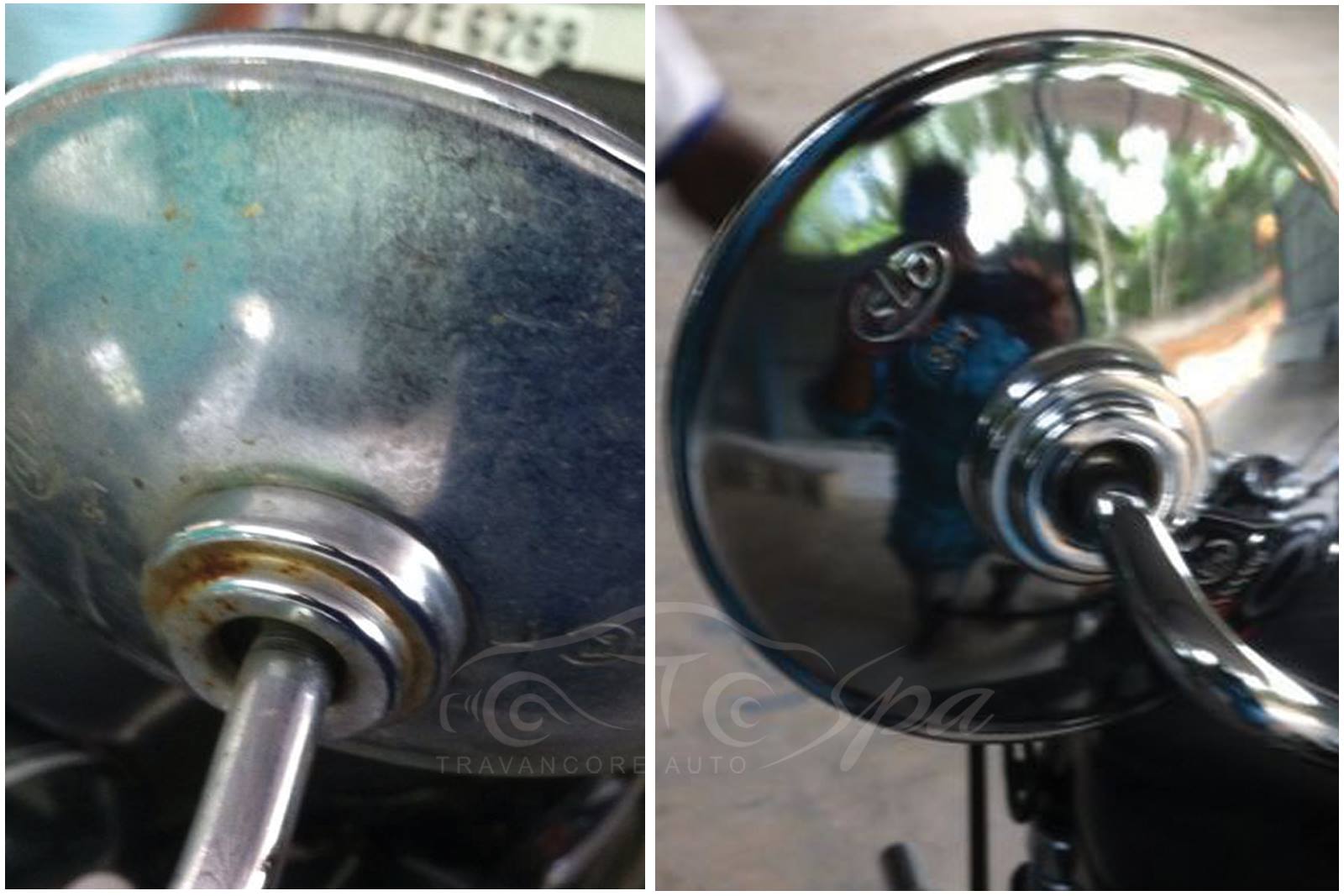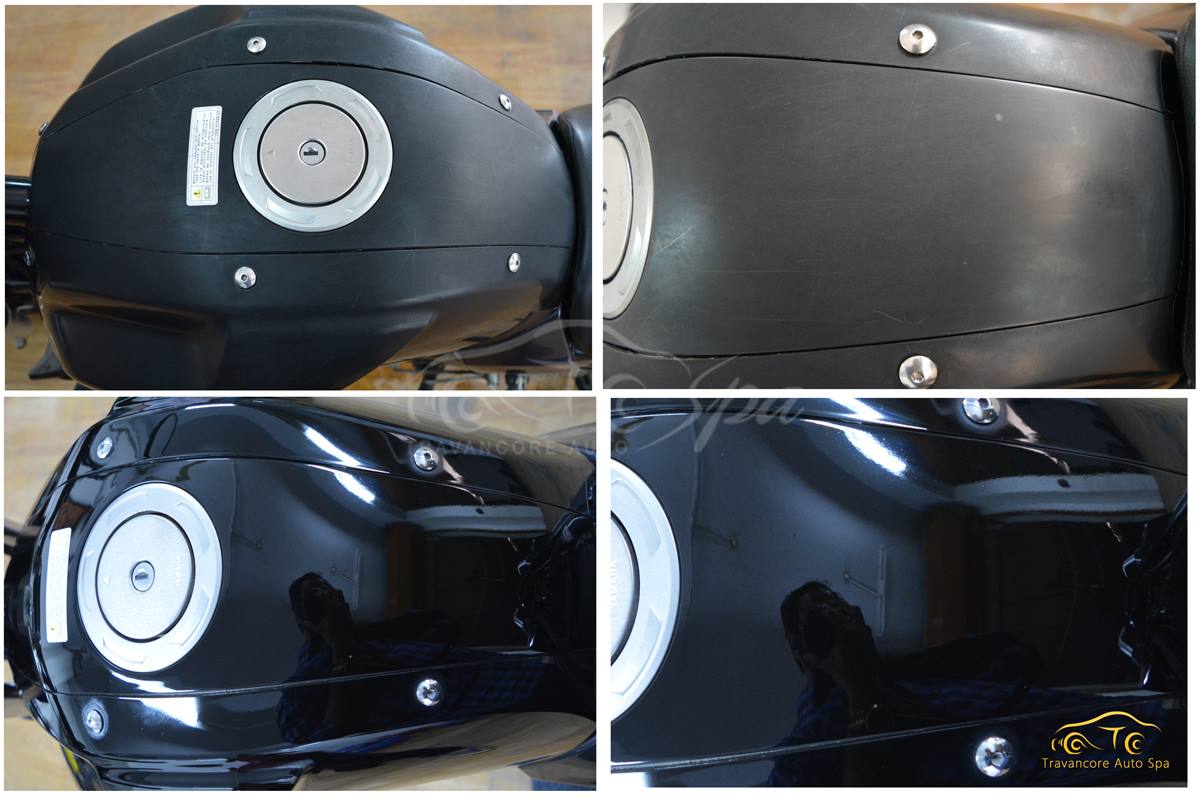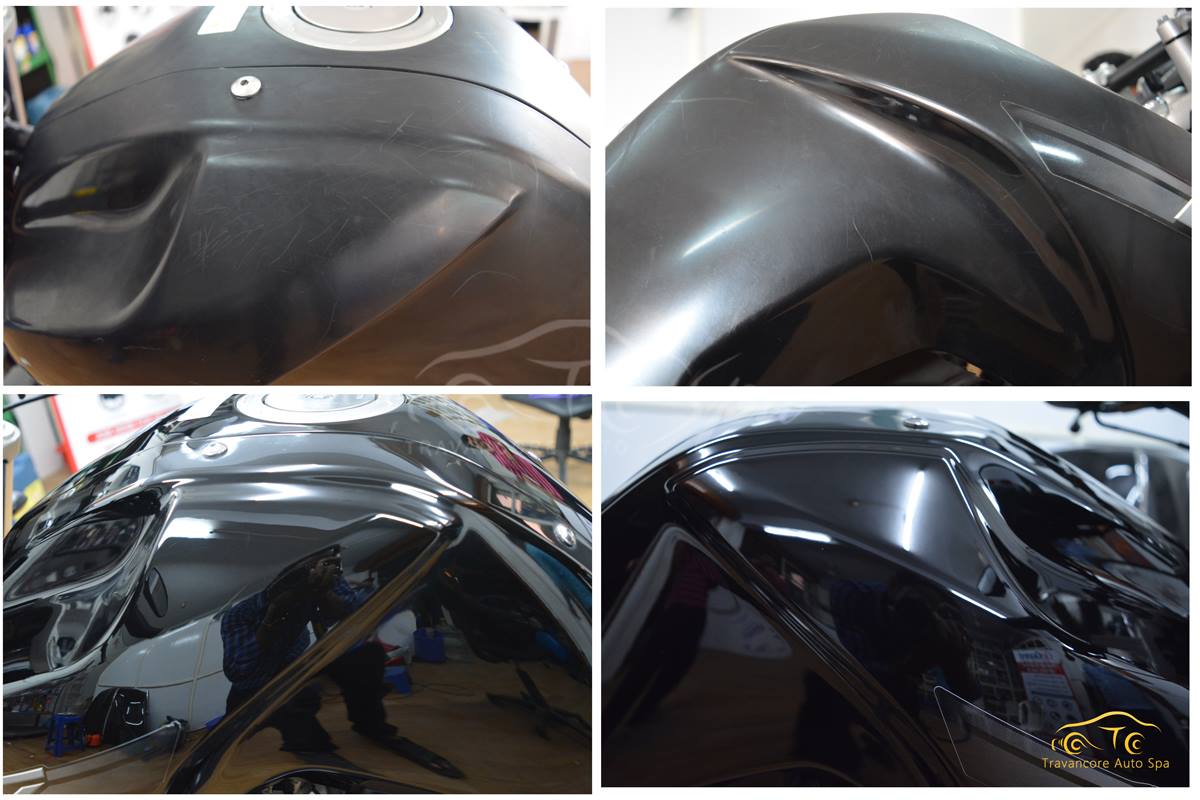 Bike polishing or bike gloss restoration is one of the most common methods of bike detailing. It involves using a polish to remove surface scratches and swirl marks, and restore the shine to your bike's paint. There are many different types of bike polish available, ranging from basic wax-based polishes to more advanced ceramic coatings.
Choosing the best bike polish depends on your needs and budget. If you're looking for a basic, budget-friendly option, a wax-based polish like Waxpol Bike Polish may be a good choice. If you're looking for something more advanced, a ceramic coating may be the way to go. TAS has wide range of coating options to choose from.
Bike Polish Price : The price of bike polish can vary widely, depending on the type of polish and the size, condition of the bike. Basic wax-based cleanings are cheaper, while more advanced detailing and ceramic coatings can cost more. Please call us to discuss.
Bike Polish Wax is a type of polish that contains natural or synthetic waxes. It is designed to provide a protective barrier between your bike's paint and the elements, and can help prevent fading, oxidation, and water spots. This includes just application of protective metal wax and paint wax.
Royal Enfield Metal Polish is for RE exposed non-painted metal parts. It is formulated to remove oxidation and restore the shine to your bike's metal parts, and can be used on a variety of other bikes as well.
Bike shine polish is a term for normal polishing designed to restore the shine to your bike's paint. It can help remove surface scratches and swirl marks, and leave your bike looking like new.
Ceramic coatings are becoming increasingly popular in the world of bike detailing. They offer superior protection against UV rays, chemical damage, and oxidation, and can last for years with proper maintenance. Ceramic coatings are usually applied by professionals, and can be quite expensive. However, the results are often worth it, with a deep, glossy finish that is resistant to scratches and swirl marks.
Teflon® is a brand name and registered trade mark that is owned by Chemours (formally DuPont). this product is not available in market for paint coating. Please be aware of this fact and choose the option wisely.
Metal polishing or metal restoration is an essential part of bike detailing. It involves using a polish to remove surface scratches and restore the shine to your bike's metal parts. There are many different types of metal polish available, ranging from basic chrome polishes to more advanced metal cleaners.
Bike coating or bike paint protection is a broad term that refers to any type of protective coating applied to a bike. This can include ceramic coatings, wax, graphene coatings, and other types of protective films. The goal of bike coating is to protect the bike's paint and metal parts from damage, and to make it easier to clean and maintain.
Bike Coating Near Me Call TAS for any coating / restoration requirement for your bike.
Bike Detailing Bullet DetailingMetal RestorationMetal PolishChrome polishharley devidsonbmwktmninja